1. Cash n Curry
As you may have already guessed, this is a curry-themed slot machine. When you think of curry, what usually comes to mind? An Indian chicken curry dish, perhaps? Maybe even halibut or lentils with vegetable curry sauce? Whatever you are thinking of, it is most likely a nice and hearty meal. Well, this slot machine does not have normal curry-related things on the reels, like turmeric or coconut milk. Instead, it takes after the classic fruit themed slot machine and displays fruit on the reels. Sure, you can eat curry with fruit, but it is still odd to see limes, chilis, and melons up there. In addition to the strange fruits, you'll also see papadums, ruby rings, and classic sevens on the reels. This slot machine comes with a bonus game, which is to create a combo of chicken baltis. You just have to get three baltis in a row on the balti rack.
Wait; it gets even weirder! In the graphics, you will see a person literally exploding from Indian food.
Very few land-based casinos offer Indian food, so it is pretty cruel to make gamblers play this machine and possibly spark a craving for Indian food, isn't it?
2. Planet Exotica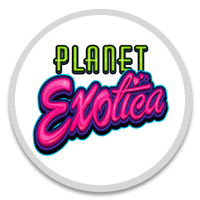 Sure, there are plenty of exotic-themed slot machines out there. Exotic women, exotic men, and exotic treasures; those are somewhat normal.
What about exotic aliens?
Yes. You read that right. Sexy aliens workin' their game at an intergalactic strip club. When you play this game, you will get to enjoy strange looking critters in sharp or sexy outfits. Should you happen to get lucky with a win, you will get your very own show from one of the hot space babes.
There is a bonus round in this game called "Select a Smooch" where you can choose a set of lips to kiss a lucky scantily-clad alien with. Let's not forget about the "Sneak a Peek", another bonus round where you have to match items of clothing on the reels. If alien strippers are your thing, then great! However, most people would find this strange and unattractive
3. Bible Slots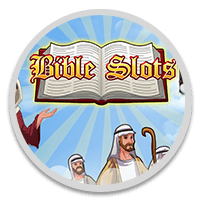 This Christian theme is a particularly puzzling one for us. Many religions advise against gambling, because it is widely considered as a sin. So of course a slot machine dedicated to the bible is a bit weird. What's even weirder is the fact that the purpose of those games is to teach the player about the Holy Book. Famous bible characters, letters, and numbers grace the reels. Not only that, but they also come in sub-themes, including Noah's Ark, Adam & Eve, Joseph Dreamer, and End Days.
There is nothing wrong with learning more about the bible, of course, but we feel that playing Bible Slots at a casino is kind of like reading the bible at a strip club.
4. 40 Shades of Santa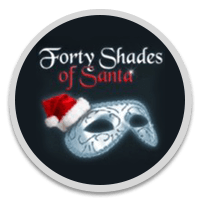 This is another adult themed slot machine with a very strange twist. If you had to make a list of the kinkiest public figures, Santa Claus would be dead last, wouldn't he?
That's why this theme, which is a parody of the famous book, 50 Shades of Grey, is a bit odd. You see; Santa Claus is the sexy character.
The reels are adorned with images of handcuffs, masks, lips, high heels, a sexy version of Mrs. Claus, fishnet stockings, and Santa Claus himself. Out of all the public figures to sexualize, why did Paddy Power (an Irish bookmaker and the creator of this strange slot theme) go with Santa Claus? We'll probably never figure it out.
5. Judge Judy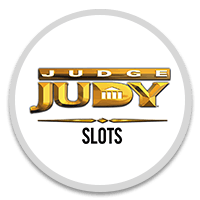 Many consider Judge Judy the epitome of trashy daytime TV. That's why we find it strange that they actually created a slot machine for this show. Out of all the TV shows they could have used, they decided to go with Judge Judy. We don't get it, either.
The reels display images of the show's logo, Judge Judy herself, and random law and court oriented images, such as the judge's hammer, a court house, law books, and the American flag.
Not only that, but also there are bonus rounds (called "You Make the Call") where you have to watch video clips of Judge Judy cases aired on TV and then try to make the same verdict as Judge Judy did on TV. If you and Judge Judy arrive at the same decision, you will get your bonus multipliers (and you will get a random video of Judge Judy awarding you the win.)
The law represents order, virtue, and righteousness, which are rarely enforced in casinos. That's why it may be a bit strange to play Judge Judy slots at a casino.
6. Obama Slots
Thanks, Obama.
This theme has a very patriotic feel to it, with George Washington, George Bush, Bill Clinton, Ronald Regan, John F. Kennedy, Abe Lincoln, and, of course, Barack Obama gracing the reels. There are also letters adorned with the American Flag.
We suppose there are more normal ways to express your patriotism, but at least you have a chance at winning some money at the meantime.