Immortal Romance Slots
If you're a Canadian online slot player looking for a game like no other, what better time than right now to grab a front row seat for the thrilling saga of Immortal Romance. You could wait till Halloween or the next showing of Twilight to hang out with witches and vampires. Or, courtesy of Immortal Romance Slots, you don't have to wait at all. You can be just minutes away from being mesmerized by these characters online and maybe even winning big in the process.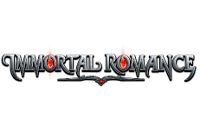 GAME DETAILS
Reels:

5

Paylines:

243

Multiplier:

YES

Bonus Round:

YES

Max Bet:

$6.00

Max Win:

$7,720 (in base game)

C$72,900 with bonuses

Jackpot:

YES

Progressive Jackpot:

NO
The World of Immortal Romance
If you're content with the simplest of slot machines-3 reels with just a few winning combinations, and no bells and whistles, Immortal Romance is probably not your best choice. But if you're adventurous and ready to be entertained by a machine that can be aptly described as "out of this world," the vivid graphics, haunting original soundtrack, and inventive Gothic storyline will intrigue you and enthrall you.
But you better allow yourself plenty of time. Once you step out of the ordinary into the paranormal extraordinary, it won't be easy tearing yourself away from a game that offers more action, suspense, excitement, and opportunity than you can ever imagine.
Immortal Romance, developed by Microgaming in December, 2011, has not only taken Canada by storm; it has become a favourite of slot players worldwide. What sets this 5-reel slot game apart from so many other online slots is not just the alluring theme, but the fact that this machine dispenses with traditional paylines altogether. Instead, a winning combination occurs anytime the same symbols appear on consecutive reels from left to right, regardless of their position on each reel.
This important piece of information might lead you to surmise that with all these different possible combinations of results, many spins come up empty. And you're right about that, but you'll enjoy the game much more if you think positive. There are 243 different ways you can win! That isn't all, though. There's never a dull moment in Immortal Romance, with ongoing opportunities galore for free spins, multiple winnings, and "wild" bonus features that can randomly turn non-winning symbols into winners.
Fortunately, Immortal Romance is a relatively affordable slot game. The minimum bet per spin is just 1 cent and the maximum is C$6.00. Or you can play for free.
Look for These Symbols to Play Bonus Games
The aligning symbols you really want to see, because they pay the most, are 5 lion's head scatter symbols, 5 of the Immortal Romance wild symbol, or a pair or more of matching symbols pertaining to the four main characters. Assuming a C$6.00 wager, if you get 5 scatter symbols at once, you win the top jackpot of C$1,200.
The same wager yielding 5 wild symbols not only gives you the second highest jackpot of C$300, but doubles any other winnings from the spin. The playing cards from 9 through Ace pay less. If you're really lucky you will activate the randomly occurring "Wild Desire" feature and, lo and behold, any or all of the reels could turn completely wild!
The object of the game is to keep gaining access to the "Chamber of Spins." Entering the chamber often gives you not only many more chances to win from all the free spins you get, but also lots of opportunities to multiply your winnings. You do that simply by getting 3 or more scatter symbols on the same spin.
The first four times you access the chamber, a young witch named Amber hands you your reward: 10 free spins, with your winnings multiplied by 5. The fifth through ninth time, a vampire playboy named Troy, accompanied by flying bats, rewards you with 15 free spins and the chance to have your winnings multiplied up to 6 times. For your 10th through 14th chamber access, Michael is the star of the show. This 800-year-old vampire will give you 20 free spins. He also offers a "Rolling Reels" feature, potentially multiplying your winnings up to 5 times more. Starting with your 15th time in the chamber, Michael's forbidden mortal love, Sarah the scientist, takes over with the most generous offer yet, 25 free spins. Sarah also has the power to randomly make up to 3 symbols wild.
Meanwhile, the "Wild Desire" feature of Immortal Romance remains a possibility, too. At any time, the whole machine could go wild, and turn multiple winnings into mega winnings!
Keep the Fun Going Next Time
While you are playing, any time you feel like it, you can click on designated links to learn more about the four featured characters who are being so generous to you. After you log out, the slot machine will even keep track of your Chamber of Spins progress for the next time you play. So when you log on for your next session, you can simply pick up where you left off, instead of starting from scratch.
The only thing Immortal Romance doesn't offer is a progressive jackpot. But with 243 opportunities to win, who needs it? Saving the best for last, here is what your Immortal Romance winnings would be on a C$6.00 bet if your whole machine were to go wild. A whoppingC$72,900!
Reviewed By: OnlineSlots.ca
Play Over 550 Slot Machines for Free, Right in your Browser, right here at OnlineSlots.ca!