Iron Man Slots Review
The Iron Man online slots game from Playtech takes video slots to a new level of awesome fun. The graphics are impressive, the jackpots are incredible and there are a huge number of paylines to help you win huge cash prizes. There are 25 paylines in this game, and a ton of bonus features to boot. This game is based off of the Iron man movie series featuring Robert Downey Jr. It is one of the online slots in Playtech's Marvel series, which features other super heroes such as the Incredible Hulk and the Fantastic Four. Playtech's Marvel series does not disappoint, and Iron Man is right up there with some of the best video slots out right now.
Iron Man slots features a full video intro and then awesome Iron Man themed graphics once you are in the game. You will see symbols that represent Iron man himself and his world, including scatters, fixed jackpots and wilds (including expanding wilds!). In online slots, these are the features that players get excited about. Check out Iron Man slots today for a great time.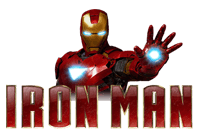 GAME DETAILS
Reels:

5

Paylines:

25

Multiplier:

YES

Bonus Round:

YES

Max Bet:

5 coins

Max Win:

25,000 coins

Jackpot:

5,000 coins

Progressive Jackpot:

YES
Iron Man
WHAT YOU'LL ENJOY
Huge number of paylines – 25 ways to win!
Features expanding wilds
You can win any of the four Marvel progressive jackpots
Free spin bonus rounds included
Play Iron Man Now!
Click to enlarge
Play Iron Man For Free Now
Play Iron Man Slots Today!
Iron Man Slots is one of the most popular games from Playtech this year. Released in 2009, this slots game has just gotten bigger and bigger each year as the Iron Man series continues. It starts out with an incredible video introduction that features clips from the Iron Man movies – you see Iron Man himself flying around in his suit, fighting the bad guys and generally being awesome. Viewers love Iron Man, who has been a classic comic book character from the beginning and reached a much larger crowd since the movies have been released. Playtech did a great job honoring the style and feel of the movies without being overly cheesy. Whether you are a move fan or an original comic book lover, you will have a great time at this online slot game. Read on to find out more about the features and potential payouts in this game.
Iron Man Slots Features
It's no wonder why Iron Man slots has been so popular – the Iron Man movies are some of the most loved comic book films made in recent years. This is a five reel, 25 payline slot machine that does its best to emulate the action packed adventure that you see on the big screen, and it really lets you get in on the action. The game features a bonus round with expanding wilds, scatter symbols and more. You can bet anywhere from one cent up to five dollars, and you can bet p to 10 coins per line. That means huge payouts if you are playing the max bet when you hit a bonus round or jackpot.
The symbols in this online slot machine are all related to the Iron Man franchise, even including Tony Stark himself. You will also see Iron Man, his logo, a Stark Industries briefcase and plane, and missiles. The jackpot can be up to 5,000 coins in the regular game, which is very impressive when you consider a max bet of C$5. To win this jackpot all you need to do is land five Iron man symbols. There is another fixed jackpot is 1,000 coins, if you spin a mix of five of the two different Iron Man symbols on the reels. You do not often see jackpots rewarded for mixed symbol line ups, so you will definitely want to take advantage of that opportunity.
The biggest payoff in any marvel slot is going to be the four Power jackpots. These jackpots are progressive, meaning they pool all the bets from all the Marvel games and they increase every single day until someone hits the big one. You can never predict the exact amount but it is always sure to be massive! The jackpots are the Power jackpot, the Super Power jackpot, the Extra power jackpot and finally, the Ultimate Power jackpot. As you can guess, the Ultimate Power is the largest dollar amount of them all. You have the chance to win these jackpots as long as you are playing for cash.
If you want to try out the game first before putting real dollars on the table, you can do that as well. You can access any Marvel slots game from your home computer, or while you are out and about. You can play for free online from your tablet if you have access to wifi, or even on your smart phone or other mobile device if you get 4G service on your phone. The easy to load graphics make this game a really nice option for mobile device users because it will not run as slowly as some of the other video slots out there.
Iron Man slots has more paylines than most of the other online slots you will find. Usually you see between five to ten paylines, but this game has 25! As you probably well know, each payline gives you another chance to win cash prizes, bonus rounds and jackpots. The bonus round on this game features expanding wilds. When you land either of the Iron man symbols on top of one another on the reels, they expand complete as many winning combinations as possible on all 25 lines. For this reason, it really pays to play all 25 lines every time you spin.
Coins and Stakes
The betting options on Iron Man online slots are impressive. You can change the coin amount, meaning how much each individual coin is worth in dollars and cents. This option is on the left hand side of the screen. You can also customize your bet per line, located in the middle of the screen. Finally you can choose how many lines you want to bet on using the lines button in the middle of the screen. These are all calculated together to give you the total bet. Or, you can select the bet max button to bet the maximum allowed amount of C$5. this means that when you win, you will win the maximum possible prize. With so many paylines, it really pays to go big!
Iron Man Slots Symbols
As you can guess, the symbols in Iron Man slots all relate to the movie version of the Iron Man franchise. You will see three different versions of the famous Tony Stark – one as plain old tony himself, and two as iron Man. Iron Man is the wild symbol and becomes a stacked wild when you have both symbols on the screen. You will also find the Stark plane, a Stark Industries briefcase, missiles and the Iron Man logo as symbols. And of course, there are the standard 10, Jack, Queen, King and Ace symbols as well.
Play Iron Man Slots Today!
Iron Man is the hottest game out there for lovers of this comic book hero. You can relive the adventures of the movie series while winning tons of real cash prizes. With bonus rounds, stacked wilds, and 25 ways to win, it is a great deal and a great way to pass the time. You have access to six different jackpots in this game – two fixed jackpots for 10,000 and 1,000 coins, as well as the progressive Marvel jackpots. Check it out today if you want to win big!
Reviewed By: OnlineSlots.ca
Play Over 550 Slot Machines for Free, Right in your Browser, right here at OnlineSlots.ca!