Fantastic Four Slots Review
Do you love Marvel superheroes? Well get ready for another slam dunk slots game from online casino giant Playtech. The Fantastic four are a group of superheroes that are extremely popular in the comic book world, and their online slot game brings all of the excitement of their comic adventures to your home computer or mobile device. This slot has five reels and 20 paylines, giving you plenty of chances to win big time cash.
Fantastic four online slots features all of the four superheroes in their full glory: Mr. Fantastic, The Invisible Woman, The Human Torch and The Thing are all featured on the reels. You will also see a symbol featuring their recognizable logo and recognize the familiar blue of their superhero suits in the colour theme of the game. This slots game has Wilds as well as Scatter symbols and a free spins bonus feature.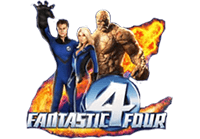 GAME DETAILS
Reels:

5

Paylines:

20

Multiplier:

YES

Bonus Round:

YES

Max Bet:

2 coins

Max Win:

20,000 coins

Jackpot:

10,000 coins

Progressive Jackpot:

YES
Fantastic Four
WHAT YOU'LL ENJOY
20 paylines give you many opportunities to spin a winning match
Features a free spin bonus feature
All of the Fantastic Four symbols are stacked wilds
You can stop the reels spinning at any time when you spin
You have access to two progressive jackpots
Play Fantastic Four Now!
Click to enlarge
Play Fantastic Four For Free Now
Play Fantastic Four Slots Today!
Fantastic Four slots are another big hit from Playtech in their Marvel Slots series. If you love comic books and especially the Fantastic Four, you will definitely have a great time playing this online slots game. You have access to 20 paylines, any of which could help you win big. The game has scatter symbols, stacked wilds and access to all of the four Marvel progressive jackpots. You can even try it out for free before you start playing for real money. You can access this slots game form anywhere – your home computer, your mobile phone while you are on the go, or from a tablet or other wifi device. It is so easy to play and with so many ways to win big, it would be a shame not to give it a try!
Fantastic Four Slots Features
Fantastic Four slots introduces you to the four main characters right away in the info. In case you forgot, they are Mr. Incredible, The Invisible Woman, The Human Torch and The Thing. They all have their special features to show off, with Mr. Incredible being able to make any part of his body lengthen or grow at will. The Invisible Woman is, you guessed it, invisible whenever she wants to be. The Thing is a massive monster made of rock and The Human Torch is a man with a body made of flames/ The game itself is fantastic four themed as well, with a blue background and all of the symbols matching their flashy style.
This slots game offers a huge number of paylines. With 20 ways to win, you have a lot more of a chance than you will see on other online slots. This game makes it easy for you to win a lot of real cash in just a few spins. Not only do you have a chance to win one of the four progressive marvel jackpots, there are four stacked wilds that you can spin and win huge prizes and free spins. Each Fantastic four character is a stacked wild, and if you see three of any character line up on the reels you will win awesome prizes.
Since this slot has so many paylines, it really pays off to bet the max bet every time. You can bet up to 10 cents per line and up to 20 paylines, giving a max bet of two dollars. This is a lot better than you will see in many slots games that have a max bet of five to twenty dollars – that adds up quickly when you sit down and play for a while! This game also has an amazing Scatter bonus. If you see 4 of the scatter symbol, the Fantastic Four's logo which is the number 4, you will instantly win 10,000 times your line bet. That means up to C$1,000 in one spin!
The bonus round in Fantastic Four slots is a force to be reckoned with. There are four separate rounds, one for each of the four characters. Mr. Fantastic adds some fantastic expanding wilds to every one of the five reels. The Invisible Woman adds increasing multipliers to any win that you stack up on the reels. The Thing also adds sticky wilds, but you can only win up to three extra free spins. If you have any of the Fantastic Four characters on the reels, The Human Torch turns them all into Human Torches, and creates a Wild card in the first wheel. You won't find this many bonus features in many other online slots.
By far the most exciting part of Fantastic Four slots, or any other Marvel slots, are the progressive jackpots. Progressive jackpots mean that each day, as more people play the game, the jackpot amount increases more and more. Every day that you play this game, your potential win gets even larger. That is fantastic in itself, but Playtech takes it one (or four!) steps further by granting you access to four individual jackpots. The Power, Super Power, Extra Power, and Ultimate Power jackpots are all progressive and all there for the taking!
Coins and Stakes
Some online slots take advantage of players by offering a huge range of betting options, counting on the fact that you will not pay attention to the total bet amount when it is all added up. Fantastic Four slots is more honest and straightforward. You can bet between one cent and 10 cents per line, and you have to pay for each line you bet on. This means that if you bet one cent per line and bet on all 20 paylines, your total bet amount for each spin will be 20 cents. You can change this amount at any time, and you can also click on the bet max button to quickly bet the maximum amount available. It pays to play the max, because it is not very much at two dollars per spin and your potential payout is so much more when you bet more.
Fantastic Four Slots Symbols
The symbols in this Marvel Slots game would be easy to guess. First of all you have the standard "deck of cards" symbols. They are on almost every slot out there, and include the number 10, Jack, Queen, King and Ace. Next you have the Fantastic Four number four logo, which is the scatter symbol. There is also an earth symbol. The Fantastic Four themselves each have a symbol on the reels, showing their characters. These character symbols are all wilds and will bring up their individual bonus rounds, and they also substitute for any other symbol. Wilds always pay out the maximum combination.
Play Fantastic Four Slots Today!
Fantastic Four is a great addition to the Playtech marvel slots series. It is a fun adventure from start to finish, with exciting bonus rounds, progressive jackpots and scatters to go around. You can easily win thousands of dollars in just one spin with the four Power progressive jackpots. Check it out today, you can play from anywhere! Whether you are at home on your personal computer, or our and about on your mobile phone or tablet, as long as you have an Internet connection you can play this online slot.
Reviewed By: OnlineSlots.ca
Play Over 550 Slot Machines for Free, Right in your Browser, right here at OnlineSlots.ca!