Review
Updated November 2023
Classic Star Trek Symbols From the Original Series
As we mentioned above, the developers of this slots game were meticulous in their attention to detail to make sure that the game gives a great experience to fans of the Star Trek TV show. Even if you have never seen the show, you will love the graphics and the sound effects which make you feel like you are on a spaceship with Captain Kirk and the crew of the Enterprise. The graphics in Star Trek Red Alert show up on the reels as Dr. McCoy, Spock, Captain Kirk, Evil Guy, a Medical Tricorder, a communicator, Starfleet Insignias, Klingon Birds (spaceships), Phasers (pistols) and the Feature Icon (the Star Trek logo). There are multiple story lines in the game, which play out in the different bonus features.
Intergalactic Bonus Features
There are so many bonus features to this game, it is staggering. Usually you will find one or two bonus features and maybe a bonus game within the game. WMS spared no expense in developing this game to make sure it would be a ton of fun and like nothing else you have experienced. The first feature is Scotty's Wild Reel, in which Scotty appears and fills up one or two entire reels with his symbol. Spock is also a special feature, and provides multipliers of 3x all the way up to 10x whenever he appears on the reel. There is also a Fly- By Feature in which the Enterprise herself flies by across your screen. In this feature, all current winning combinations will change into either a Wild symbol, Feature symbol, Star Trek Insignia, Spock, Kirk or Dr. Mccoy.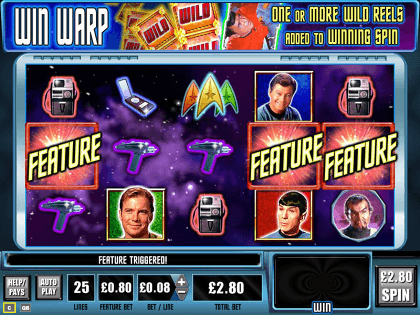 Some nice caption about why this game is exciting
Some nice caption about why this game is exciting
Red Alert! There Are More Fun Features to Play
If you thought those bonus features were enough to keep you busy, there is one more exciting feature to come. The Red Alert bonus round is the best of the bunch, and truly unique to this slots game. The Red Alert feature has the potential to unlock unlimited free spins for as long as the feature lasts. When you line up the Feature symbol three or more times on the reels, you will be transported to the screen where the USS Enterprise is under attack from enemy space ships. Each enemy is worth a multiplier of various amounts. You start the bonus round with five shields, and each time you do not spin a win, you lose a shield. When you win on any of the 25 paylines, the Enterprise fires on one of the enemy ships, and awards you the multiplier of that ship. The feature is over after all five shields have been destroyed, which if you are lucky can take quite a while to happen.
The Final Frontier: Conclusions on Star Trek Red Alert Slots
Star Trek Red Alert is a fantastic game by world renowned developers Williams Interactive. Star Trek fans will love seeing all of the crew members and Star Trek graphics on the screen as they spin the wheels. The bonus features of this game cannot be beat, and include free spins, multipliers, an exciting bonus round, wilds and Wild Reels. The game may be confusing to beginners who are not familiar with slots bonus features, but it is easy to get used to and well worth the effort!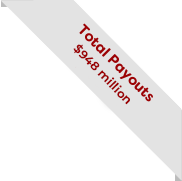 play for December's top jackpot
at Jackpot City with C$1,800 BONUS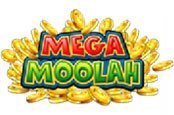 CURRENT JACKPOT
C$
Most recent win:
C$ 18,915,872.81 million in Nov 2023
PLAY NOW
at Jackpot City