Jackpot Giant Slots Review
Jackpot Giant is a totally original and extremely fun new adventure from online slots company Playtech. Playtech is know in in the online casino world for their inventive games and story lines, and Jackpot Giant definitely fits the bill. This game is like nothing else you will have seen on any other online slots game. This game has the classic 5 reels and an amazing number of paylines. 50 paylines give you more chances to win than you will see almost anywhere. Jackpot Giant is truly a giant in the casino world, and has lots of fun features to boot.
Jackpot Giant features include progressive jackpots, scatter symbols, stacked wilds, and gold wilds. This is a great combination for anyone looking to win big. The Giant himself is the scatter symbol, and you can easily trigger the Giant Bonus Round graphics and the riveting soundtrack. Read on to learn more about this fun slots experience!
Review
Updated November 2023
Play Jackpot Giant Slots Today!
Jackpot Giant online slots are designed for anyone who loves a good story book setting and friendly characters. The big jolly giant is always smiling and loves to share his gold coins with you. He definitely has enough of them, after all he caused multiple volcanoes to erupt with coins! There are two jackpots that you have the chance to win, the regular jackpot at 50,000 coins or the ever so exciting progressive jackpot with hundreds of thousands of dollars at stake. You rarely see progressive jackpots in the online casino world and when you do they are often on games with just a few paylines. Jackpot Giant is truly unique with a massive progressive jackpot and 50 ways to win it!
Jackpot Giant Slots Features
The introduction to Jackpot Giant is like a movie all by itself. You are quickly introduced to the main character, the giant. Our friendly giant is strolling along the country side when be comes across a huge gold coin. At least, huge by our standards – it is about the size of a palm tree! He sees a giant smoldering volcano in the distance and decides to flick the coin with his fingers – and guess what! He makes it! Just as he turns to walk away with a huge smile on his face, you hear a rumbling and the earth starts to shake. Before you know it, the volcano begins to erupt gold coins! The other nearby volcanoes soon follow suit and soon the whole sky is raining gold coins. The giant happily runs over as the letters for Jackpot Giant start to fall to the ground.
The story does not stop there. Once you are in the game, you still get to see your friend the Giant, as he is a prominent feature on the screen. He even shows up to blow away the clouds from the progressive jackpot bar on the top. The graphics in this game are really great. They are 3D, bursting with colour and animated. The reels themselves are transparent so that you can view the lovely scenery in the background.
Playtech released Jackpot Giant in 2014, and in less than a month it was one of their biggest hits yet. This is due in no small part to the progressive jackpot, which keeps getting bigger and bigger every day as more people play. You do not even have to have a large bankroll to have a good shot at the jackpot, because the low betting range in this game makes it easy to play for hours without spending too much money.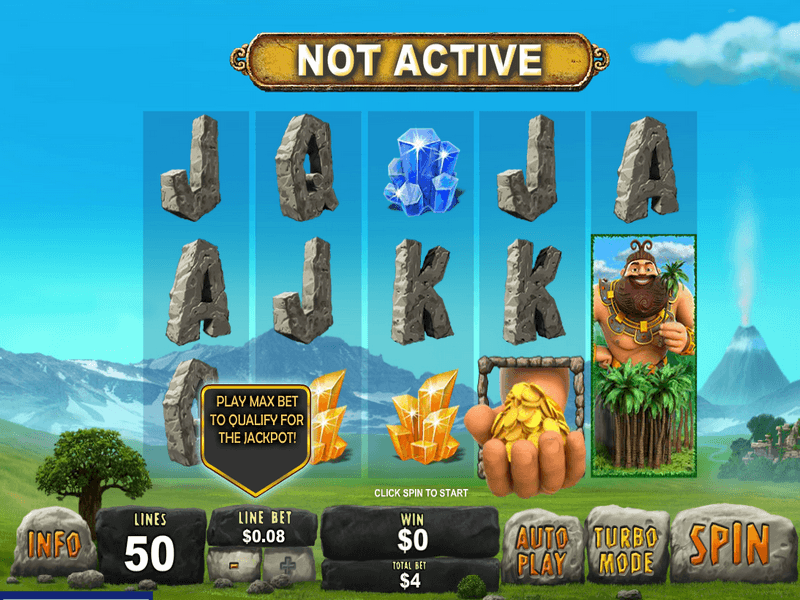 With millions of dollars on the line, Jackpot Giant has no trouble living up to its name.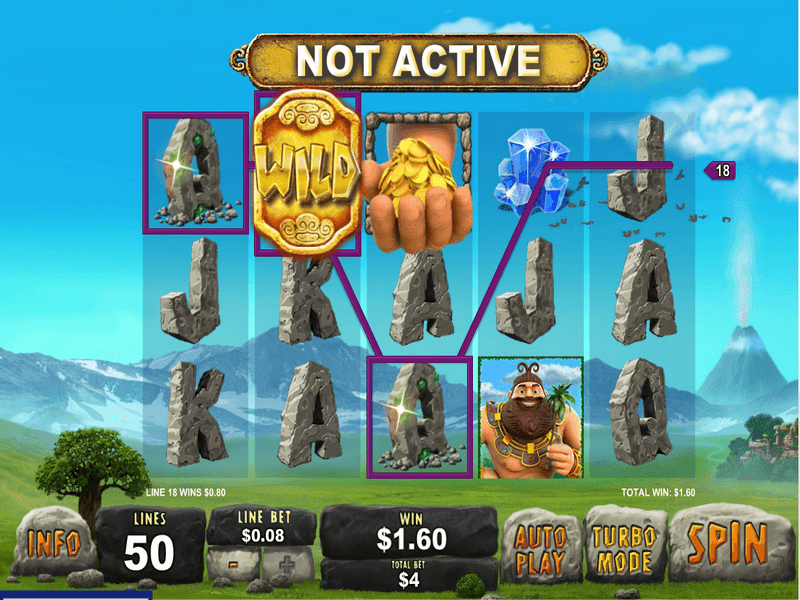 With great graphics and rewarding bonus features, this Playtech slot is always entertaining.
This is a fast paced game and it can be made even more exciting by activating Turbo play. This feature allows you to go through your spins quickly. Usually there is an animation that accompanies all of the symbols when you win, but turbo play bypasses the animations and just shows you the line you won on, and the amount you won. This is especially great if you do auto play – you can select 10, 25, 50, 99 or "until feature" spins.
The wild symbol appears quite often on the reels. It is easy to spot – it is a giant gold card that says WILD. This card substitutes for any other symbol on the reels, and always gives you the maximum possible payout. For example, if you were to spin 2 jacks and 3 giants, and the Wild could substitute for either, it will automatically select the Giants so that you will get that larger payout.
This game features only one bonus game, but it is a great one. The bonus symbol is the volcano and if you want to play, you have to land a volcano on both reels 1 and 5. The Giant Bonus takes you to another screen, where you get to pick three out of six volcanoes to see your cash prize. The volcano tips a gold coin into the volcanoes that you click on and they erupt with gold coins until your prize is added up. The only setback here is that the game does not offer any free spins. This is a popular feature and one that will be missed by a lot of players.
The progressive jackpot is not random in this game. You must be playing at maximum stakes in order to win. This is a plus and a minus, because some people may not want to play the maximum at all times, but if you do win the jackpot at the maximum you will definitely not miss that extra few dollars!
Coins and Stakes
Jackpot Giant does not have a very large betting range. This is a positive aspect in this game though, unlike in some other games. Because this game has a progressive jackpot, you have to be playing the max bet in order to cash out if you do spin five giants and win big. It would be a huge shame to see that jackpot, worth hundreds of thousands of dollars at times, go to waste because you were not betting the max. The lower betting range makes it possible to always bet the maximum without breaking the bank. If you win the regular jackpot, you will be awarded 50,000 coins, or C$4,000 at the maximum bet. Your minimum bet is one cent, and it goes up to either cents. You do have to pay for all 50 paylines, this is not optional as in some other slots where you can select how many paylines to play. Again, though, this is not a negative because it just gives you more chances to win the jackpots!
Jackpot Giant Slots Symbols
The Jackpot Giant slots symbols all revolve around the home land of this mystical giant. The card symbols are all shaped like rocks, and when you spin a winning combination they all fill up with jewels. For example, the Queen fills with rubies and the Jack fills with gold. The Ace fills with beautiful rubies as well. You will also see the giant appear on the screen two times – one symbol features him standing in a grove of palm trees, and when he wins he blows the leaves off of one like a dandelion. The second one is standing above a volcano that he uses to warm his hands. Both Giant symbols take up two spaces on the reels. You will also find symbols related to gold and gems, including beautiful glue, red and gold crystals. The Bonus feature is a volcano that erupts with gold when you hit the bonus feature on reels one and five. Finally there is the wild symbol, a giant golden WILD card that substitutes for all other symbols and pays the maximum combination at all times.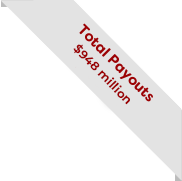 play for December's top jackpot
at Jackpot City with C$1,800 BONUS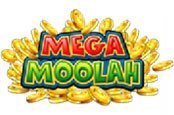 CURRENT JACKPOT
C$
Most recent win:
C$ 18,915,872.81 million in Nov 2023
PLAY NOW
at Jackpot City
Play Jackpot Giant Slots Today!
After reading our review, you will be certain that we think Jackpot Giant is a super fun and worthwhile game to play, whether or not you have a large bankroll to play with. The game features a lower than average betting range, making it possible for anyone to play the maximum bet for hours at a time. This gives you the chance to win either the regular 50,000 coin jackpot or the massive progressive jackpot, which can be worth hundreds of thousands of dollars. Imagine winning that, it only takes one spin! 50 paylines give you so many chances to win, and the bonus round is a lot of fun as well. Check out Jackpot Giant today for a really fun adventure.
Reviewed By: OnlineSlots.ca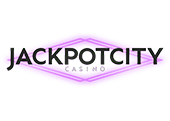 Exclusive Slots Bonus

100%

Up To

C$1,800
More than 580 games to play with real money
Over C$1600 available in deposit bonuses
Play with and earn real cash
350+ themed slot games