Nian Nian You Yu Slots Review
Nian Nian You Yu means May every year end with ample surplus or Abundance throughout the whole year in Chinese. That is a fitting name for this new slots game from Playtech, where you can win a whole lot of abundant cash prizes! Chinese New Year is in the beginning of the year, but the date varies year to year based on the Western calendar. This game is based off of a Chinese New Year theme and features ornate graphics, lots of the colour red, and access to four progressive jackpots. You will see scatters, nine paylines to win from, wilds, multipliers, and best of all, progressive jackpots.
Nian Nian You Yu is not just for Chinese online gamblers, you can play from anywhere. Playtech loves interesting themes for their slots games, no matter where you are or what device you play from. You can play from your home computer, your mobile phone with 4G connection, your tablet with wifi or even from a public computer.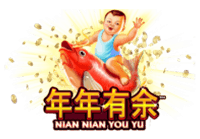 GAME DETAILS
Reels:

5

Paylines:

9

Multiplier:

NO

Bonus Round:

NO

Max Bet:

1 coins

Max Win:

900 coins

Jackpot:

1,000 coins

Progressive Jackpot:

YES
Play Nian Nian You Yu Slots Today!
Nian Nian You Yu greets you with a Chinese theme right from the beginning, with a golden fish leaping out of the water and Chinese imagery in the background. The Chinese characters for the name of the game are right on top of the English letters as well. You will see symbols such as the red card, red money envelopes that are traditionally gifted on Chinese New Year, a tray of delicious looking steamed dumplings, a paper dragon looking fierce, the same golden jumping fish from the welcome screen, a string of red firecrackers, a basket full of oranges, red paper lanterns, cherry blossoms, or a plate of dumplings with dipping sauce.
The best part about this slots game is the progressive jackpot. At the top of your screen you will see four dragons – red, yellow, green and blue. Each of these represents a different jackpot amount, ranging from thousands to hundreds of thousands of dollars. Players have even won up to a million dollars, making this one of the best jackpots around.
Nian Nian You Yu Slots Features
Nian Nian You Yu is a classic five reel slot with nine paylines that you can win on. It takes the same familiar format as Vegas style casino slot games, but with a special Cinese flair. Every symbol is not only Chinese themed but ornately decorated with intricate graphics and Chinese symbols. The bckground of the slot machine is a red Chinese temple with paper lanterns hanging from it. You have the choice to bet anywhere from one cent to nine cents, based on how many paylines you want to play. With a max bet of nine cents and a potential win of tens of thousands of dollars from the progressive jackpots, this is an awesome slots game to play any time of the year.
While the progressive jackpots are the biggest and most memorable feature of this game, there are also some pretty great features in the regular game. The purple dragon symbol can get you a jackpot prize of 10,000 coins, a total of C$900. There is also a Wild symbol, the big red koi, which substituted for all symbols. Usually Wilds do not substitute for scatters, but it does in this game! That eans you can spin so many more scatters on the reels, increasing your wins significantly. The Scatter symbol is the Chinese characters for Nian Nian You Yu, and it appears only on reels tw, three and four. Scatters substitute for any other symbol and doubles your wins.
Other than Scatters, Wilds and progressive jackpots, there are no other bonus features such as a bonus game, stacked wilds or multipliers. Some people might see that as a negative, but when you remember tha massive stakes that the progressive jackpot offers, it is not so bad! The jackpot is called the Dragon Jackpot and it is activated randomly. It is not totally random though, because you have a greater chance of winning if you play the max bet. If you trigger the jackpot, you are guaranteed one of the amounts shown in the dragon boxes at the top of the screen, above the reels. There is then a Wheel of Fortune that you spin and spin continually until you match three colours. The colour you spin three times is the colour jackpot that you win. This is a really fun way to win a jackpot and is definitely worth a shot!
Coins and Stakes
Nian Nian You Yu does not give you as many betting options as some other slots games. This makes it great for beginners or someone looking to play for hours at a time, because the max bet is not very high. This makes it easy to bet the max over and over until you hit the big one. Usually you will see coin values, number of coins and number of paylines to bet on. This game only has two options – how many coins you bet, and the number of paylines you bet on. These are essentially the same thing, with nine coins or nine cents equaling nine paylines. Nian Nian You Yu keeps it simple, which is why this game is highly recommended for mobile players. There are not a whole lot of small buttons and options that can get confusing on the smaller screen of a cell phone or tablet.
Nian Nian You Yu Slots Symbols
Nian Nian You Yu Has a lot of unique symbols that you will see on the reels. Unlike most Vegas style online slots,Nian Nian You Yu does not have the traditional card values of ten, Jack, Queen, King and Ace. Instead, every symbol relates directly to Chines New Year. There is a chinese symbol meaning Good Luck, and a string of firecrackers which represents frightening a traditional monster called the nian in order to drive him away. You will also see two symbols with dumplings, which represent good luck and wealth because they are shaped almost like a gold ingot. There is also a basket of oranges, which represents good luck because the word for "orange" in Chinese sounds similar to the word for "luck." Next you have red paper lanterns. The colour red represents joy and sounds like the Chinese word for "prosperous." Gold is also a common colour on Chinese New Year, because of the obvious connotation with money. Another symbol is the red money envelope, which is like a double whammy of luck and prosperity. There are also two different dragon symbols, the blue and purple dragons. Dragons are a common symbol of China and an important part of Chinese New Year, representing good luck for the people. The purple dragon is especially lucky in this game, with a maximum prize of 1000 times your bet. Finally you have the cherry blossom, which on Chinese New Year represents reliability and perseverance.
Play Nian Nian You Yu Slots Today!
Nian Nian You Yu is an exciting and fun game whether you are in China celebrating the lunar new year, or at home onany regular day. It fully mmerses you in the Chinese cultural theme, and has some great bonus features for you to shoot for. Not only that, the progressive jackpots are always there and ready for the taking. You have a choice of four progresive jackpots, which can be worth up to hundreds of thousands of dollars in a single spin. Check out Nian Nian You Yu today if you want a really fun Chinese themed slots game that you can easily play for hours without getting bored!
Reviewed By: OnlineSlots.ca
Play Over 550 Slot Machines for Free, Right in your Browser, right here at OnlineSlots.ca!