Alaskan Fishing Slots
Just as the clean, ice cold, picture-perfect lakes of Alaska are extremely popular for fishing, the casino game, Alaskan Fishing, is proving itself to be a great recreational pastime for online slot lovers here in Canada and abroad. Even if you rarely or never go fishing in real lakes, Alaskan Fishing Slots is available 24/7 in the comfort of your own home to fish for dollars.
In order to get you in the proper mood for what you hope will be a profitable slot fishing expedition, the five reels, filled with fish related symbols, are submerged in a crystal blue lake. Majestic mountains and animals indigenous to Alaska add further to the scene's authenticity. If you have ever taken an Alaskan cruise, this slot will bring back fond memories. If not, you may start thinking about it as your next travel destination.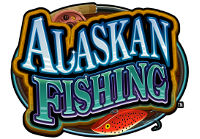 GAME DETAILS
Reels:

5

Paylines:

243

Multiplier:

YES

Bonus Round:

YES

Max Bet:

C$15.00

Max Win:

C$121,500

Jackpot:

YES

Progressive Jackpot:

NO
Alaskan Fishing Features
Alaskan Fishing is a 5 reel non-progressive slot machine, but with an important extra feature that sets it apart from most of the other machines in your favourite online casino. Alaskan Fishing, launched in November, 2009, is one of Microgaming's first slot machines to completely dispense with traditional paylines. Instead, a winning combination occurs anytime the same symbols appear on adjacent reels from left to right regardless of their position on each reel. This amazing innovation gives you 243 different ways to win! Since you no longer have to worry about traditional paylines, wins of all sizes, including the various jackpots for hitting like symbols on all five reels, can happen a lot more often. The downside, though, is that even the jackpots are quite small.
Another distinctive characteristic of this game is that you won't be dealt any playing cards to distract you. Every symbol on the reels is directly related to the fishing theme. You almost feel like you could be fishing in a real lake, or at least you want to be.
The buttons you select while playing all have fish icons, and the spinning reels are under water. From the boat or plane that takes you to the fishing site, to the patiently waiting fisherman and the tackle, reel, and bait box he will be using, to the trout and salmon that look good enough to eat, the authenticity is incredible. A bear and eagle appear on the scene, too; they are trying to catch some fish themselves.
Whenever you hit a winning combination, even if you don't immediately look at the win meter, you will know because the brightly coloured symbols in question become animated. For example, a swooping eagle, a boat bobbing up and down, or a salmon suddenly leaping up from the water might be your first clue that you just reeled in something big.
While you are happily spinning away in calm blue waters without a care in the world, soothing piano and guitar music plays in the background. But the second you win, the music switches to up-tempo old-style rock n' roll, more in keeping with your own upbeat mood celebrating what just happened on the reels.
On the other hand, if your fishing adventure seems to be going a bit awry, before you call it a day, it might be as good a time as any to take a break and watch a short video clip about various aspects of fishing. Then, return to the game recharged, hoping to find this time that the waters are a lot more inviting.
Solid Options for Coins and Stakes
You can play Alaskan Fishing Slots for free, or for real money, your choice. While the betting range is large enough to accommodate most players, this is not a high roller's game since even the maximum bet is moderate. The machine accepts three coin sizes: 1 cent, 2 cents, and 5 cents. For each bet, you pick your coin and the number of times (1-10) that you want to play it and multiply that number by 30. The minimum bet per spin, using 1 cent coins, is 30 cents, and the maximum is 300 of the 5 cent coins, orC$15.
Make Sure You Know the Symbols
The Alaskan Fishing Logo symbol is the game's wild symbol. As such, it substitutes for all other symbols except the scatter symbol and bonus symbol. Should you get 5 of them all on the same spin, you win the game's largest fixed jackpot, 5,000 coins for a maximum size bet. Since the wilds are stacked, you do have the potential, however, to win much more than just the fixed jackpot. Smaller jackpots are also awarded for other 5 of a kind spins which, of course, the wild symbol can help create.
The tackle box is the scatter symbol. Anytime 3, 4, or 5 of them appear anywhere, it triggers 15 free spins, with all wins doubled. In addition, if during the course of your free spins, you get 3 or more scatter symbols again, you not only retrigger the free spins, this time your winnings are multiplied by 5x, all the way up to 100x. On top of all that, you can reel in even more winnings by retriggering the Fly Fishing Bonus Game.
The symbol that serves as your ticket to the Bonus Game is the Fisherman. The Bonus Round is triggered when the Fisherman symbol appears on both reels 1 and 5 simultaneously. It is then time to leave the pristine lake and see how well your luck holds up in an Alaskan river surrounded by snow capped mountains. A fisherman is waiting for you to pick 5 fishing spots, one at a time, out of the 9 that are displayed in the river. The fisherman then lands his tackle there and picks out a fish. The amount you win depends on the size of the fish. A small fish pays you back only 2x your bet, but a really large one translates into a big payday for you, 15x the amount of your bet.
So, Who Wants to Go Fishing?
Clearly, even without a progressive jackpot, Alaskan Fishing seems like a good bet for a profitable day at the slots. And while it is a longshot-a big longshot-it could be you who reels in the machine's largest catch, a possibleC$121,500! First, though, all of the following must happen together at the same split second: the whole machine must go wild, on a retriggered free spin, with winnings multiplied by 100. That would be truly the fishing trip of a lifetime!
Reviewed By: OnlineSlots.ca
Play Over 550 Slot Machines for Free, Right in your Browser, right here at OnlineSlots.ca!