Mega Moolah Slot Review
Current Mega Moolah Jackpot!
Famous the world over for having four incredible progressive jackpots, it's no wonder Mega Moolah, a safari themed slot machine is named the Millionaire Maker. The four progressives are titled Mini, Minor, Major and the Mega, the last of which offers one of the biggest progressive jackpots available for online gamers today. Have we caught your attention yet? You heard us correctly, this Mega Moolah progressive game can reward players a phenomenal amount of real cash - one million, supplied by Microgaming, is the minimum payout. Could your next round be the one that changes your life?
Aside from the obvious, there are a number of reasons why the Mega Moolah slot game has casino lovers the world over raving. It's also incredibly fun to play, that's how the pot gets to be so high after all - lots of happy contributors! The more people play, the higher those numbers turn. So let's take a look at the exciting aspects of the game and delve a little deeper into how to bag one of those enticing jackpots.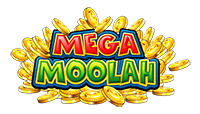 GAME DETAILS
Reels:

5

Paylines:

25

Multiplier:

YES

Bonus Round:

YES

Max Bet:

125 coins

Max Win:

225,000 coins

Jackpot:

YES

Progressive Jackpot:

YES
Mega Moolah Jackpot Review
This 5-reel 25 payline slot was introduced by Microgaming in 2006 and since then has created many instant millionaires thanks to Microgaming's policy of handing over the cash in one lump sum, rather than yearly, monthly or even daily increments. It would be a bit of a shame, after all, to bag the progressive, only to learn you had to wait 5 years to see the total in your hands! How could you irresponsibly enjoy all that extra cash on your new yacht then?
In addition to the progressives, the standard play game also gives you the chance to win up to 225,000 coins - so there really is everything to play for. Itchy fingers? Yes, us too - we couldn't wait to get started playing the game - we almost hoped we wouldn't get to write the Mega Moolah review after playing because we'd be laughing on the way to the bank. Alas, not this time.
The Usual Suspects
Alongside the progressives, which can be triggered randomly at any time during the base game, there is also the usual selection of Scatters and Wilds in the game. The Lion operates as the Wild and the Monkey is the Scatter, meaning you can get into a fair bit of mischief when you hit three or more of these in one go. This triples any winning combinations you land in that round, giving you a chance to win big bucks, even in the regular play.
Mega Moolah's Biggest Winners
Microgaming's record-breaking slot has crowned many a millionaire over the years. Let's take a look at some of the biggest jackpot champs in the game's history.
1 Jonathan Heywood
$20.06m (2015)
British soldier Jon Heywood won an incredible £13.2 million in 2015 from a stake of just 25p when he played the online slot.
2 Marcus Goodwin
$11,633,898 (2016)
Ending 2016 on a high, a YakoCasino player took down the game's second-highest jackpot of all time. "I will definitely be buying a nice big house and a vacation cottage," said the lucky winner, leaving himself with about $5 million sitting in the bank.
3 Anonymous
C$11.6 million (2016)
Canadian slots players have a great record with Mega Moolah wins. And the progressive was taken down again for one of its biggest prizes in November 2016.
4 John Orchard
$9.49m (2012)
Big Mega Moolah jackpots aren't recent phenomena. In 2012, British slots player John Orchard won a £5.8 million progressive. John was actually playing The Dark Knight, a slot that is linked to the Mega Moolah jackpot, when he won the life-changing sum.
5 Georgios M.
$8.65m (2009)
Still one of the biggest Mega Moolah slot wins of all time, Greek businessman "Georgios M" won €6,374,434 back in 2009. Before currency conversions it was the largest ever won.
6 Rawiri Pou
$8.33m (2016)
The New Zealander was working in a fast food restaurant when he took down a prize worth over NZD10 million in 2016.
7 Mark A.
C$7.5 million (2015)
Canadian gambler "Mark A." took down the big one in 2015 playing Mega Moolah at Royal Vegas casino. Incredibly, Mark had only joined the online casino one day earlier before hitting the jackpot.
8 Gabriel L
$5.94m (2013)
Still a record for a mobile win, Gabriel L.'s £3.7 million is yet to be beat. 2013 was a good year for Mega Moolah wins - the jackpot was won five times, twice in the space of a week.
A year before Georgios won his life-changing prize, Finnish slots player Klaus E. was busy taking down $5.5 million at the Blackjack Ballroom casino site. His stake was a mere $0.50.
$0.50 was also all that was needed for the anonymous European player to bag €3.8 million.
11 "G.M."
$3.9 million (2014)
The mysterious "G.M." won what was at the time the biggest Mega Moolah prize on a mobile phone. The total bet? A paltry $1.25.
12 "I.R."
€3 million (2014)
A player on the Golden Tiger online casino won C$5 million in the largest win on the CasinoRewards network. The jackpot takedown also became one of the biggest won on a mobile phone. "I was telling my friends that one day I would win a house," the winner said. "This is bigger than a house!" It was the second large jackpot for a CasinoRewards site in 2014, with one lucky gambler winning €4 million (C$6 million) the same year.
13 "Jorge"
$2.38 million (2014)
2014 was a year for big Mega Moolah winners. And Jorge's win came just a month before I.R's mega jackpot.
Safari Themed Mega Moolah Apps
Nowadays, you aren't just limited to playing the casino game on your desktop, as now there is the Mega Moolah mobile app. We gave it a spin, to see how it stood up to the smooth and visually stunning nature of the in-browser game. To give it an extra challenge, the smartphone we used to play it on was a Windows Phone, as everyone's iPhone was out of battery. We were surprised to find the app fully optimized, and the gameplay very smooth. Sure, the graphics are a little simpler via app gameplay, but that's to be expected. The Mega Moolah real money app is fully compatible with your Apple, Android and BlackBerry smartphones, and judging by the gameplay on the Windows Phone, you will be in for a very pleasant surprise.
You can also play this casino games with a range of tablet devices, this offers a happy medium between desktop and mobile slots gaming - you get to game on a portable, handheld device - but the screen isn't so small that you lose a good chunk of the action. Is Mega Moolah safe on mobile? Yes, and you enjoy top encryption on data transfers to your device. Rest assured Mega Moolah is legit.
This really is a slot machine with a kick. If you want to feel your heart racing every time you click spin, then this Mega Moolah casino game is the one for you. Don't let its cute and charming safari themed graphics put you off your game, when you play to Mega Moolah odds you are playing for the big win!
Reviewed By: OnlineSlots.ca
Play Over 550 Slot Machines for Free, Right in your Browser, right here at OnlineSlots.ca!