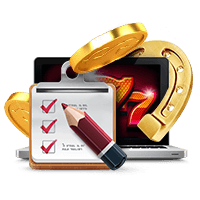 - Make sure your bets actually qualify for the jackpot. Read the terms and conditions of each game before playing it and find out which restrictions are in place. For example, you might have to play all the paylines in order to qualify for the jackpot
- Wait until the jackpot has grown. The odds of winning each bet are the same, but with a bigger prize to win, the house edge will be reduced.
- Play small enough to make lots of bets. If you blow your bankroll in one hour, you'll have to rely on luck more than usual to win. Slow and steady always wins in the long run.
- When it comes to online casinos, often times you'll be able to access the same progressive jackpots via different casinos on the same network. If you are gambling online, feel free to shop around and find the best online casinos that meet your needs.