Guide To Online Slots Games
Online slot games offer graphic and sound on par with the best blockbuster movie. Some are humorous, some are dramatic, and all provide entertainment along the way. Learning to play Internet slots isn't complicated, but there are a lot of elements to understand in order to get the most from your gameplay.
When deciding what to look for in a good online slot machine, consider your bankroll (how much money are you willing to spend for your entertainment), how much variance your playing style can tolerate, and how complex you want your game to be. We will review the terminology and concepts involved in Internet slots so that you get the most from your experience.
Reels and Paylines - How You Get Paid!
All slot machines (online or offline) have rotating reels which spin each turn. Many games have five reels, but you can find games with three, seven, or even nine reels. The reels have multiple lines of symbols that pay out when you hit the winning combinations of symbols; these lines are the paylines. There can be as little as three paylines on a slots game or as many as 100. A payline can be a straight line across all the reels or it can be in many different shapes (for example, vertical along a single reel, zigzag across multiple reels).
The number of paylines on your online slot is important because your bet is placed according to how many lines you want to cover. It is usually recommended to play the maximum number of paylines for the maximum bet (since then your payout will be the greatest and additional paylines are usually activated with each additional coin you wager). So you need to be aware of how much each spin is going to cost you.
Quick Facts
Most games have five reels, but you can find slots with anything from three to nine reels.
Paylines are the lines formed by winning combinations of symbols.
The number of paylines differ wildly from slot to slot.
Scatter symbols are special symbols that can multiply your win or trigger bonus games.
Wild symbols can be substituted for any other symbol on the reels, often helping to form winning combos.
What are all These Symbols?
Much of the entertainment in playing slots online comes from the storyline of the game, exemplified by the various symbols that are used on the reels. These symbols are often animated (sometimes in 3D) and may talk or trigger music when hit.
Scatter
Scatter symbols pay out when two or more of them appear anywhere on the screen, even if they are not in a winning payline. They can serve as a special multiplier to payout double, triple, or more of your total bet. They may trigger free spins or bonus games.
Wild
Wild symbols are symbols that can be substituted for the other symbols on the reel. When a slot machine's wild symbol appears it can be used with the other symbols next to it to make a winning combination. In some online games they will pay out even if they aren't on a pay line. They sometimes also serve as a special multiplier so that when used to make a winning combination your payout is doubled, tripled, or more. Wild symbols usually cannot be substituted for scatter symbols.
Pay Tables Tell You How Much You Can Win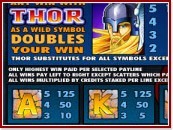 You should always take a look at the pay table before you play an online slot game because it provides very important information. Pretty much as the name implies, a pay table lists out how many coins the various combinations of paylines and symbols pay out. Find the pay table by clicking the Pay Table or Help button on the screen.
The pay table will show all the different symbols on the reels and list the payouts for getting the specified number of symbols per payline. The pay table will also indicate which symbols are wild, which are scatter, and which trigger special bonus rounds. Note that some symbols may have higher payouts than others. A wider spread in payouts means that the game has a great variance (the amounts you win, or lose, will be greater) while a more balanced payout across the symbols indicates a more conservative game (smaller winnings and also smaller losses).
Bonus Games are Where the Big Money Comes
Many Internet slot machines have special bonus rounds that are triggered when certain combinations of symbols are hit. Bonus games are usually entertaining side games that allow you to earn more coins without having to place an additional bet. The pay table may describe the rules of the bonus game or have a link to another screen that describes the game.
Don't Discount the Importance of Free Spins
Hitting certain combinations of symbols can trigger free spins. This gives you extra turns without having to place any additional bets. While the payout for a free spin can vary, it is often based on the wager (number of coins and number of paylines) from your previous bet.
Try to Play the Max Bet
Online slot games usually have a button that allows you to place the maximum bet for your spin. It is important to understand how the game you are playing treats a maximum bet.For example, some progressive slot machines pay the largest jackpot prize for the max bet, some game bonuses are based on having placed a max bet and sometimes more coins wagered increases the frequency with which you hit. Other Internet slot games might pay based on a straightforward calculation of amount paid out per coin wagered and then there is no advantage to placing a max bet.
Progressive Slots can Make You a Millionaire!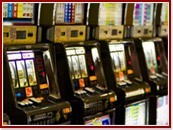 Some slot games are linked to offer progressive jackpots that pool the prize across thousands of online players. Every time a player loses a spin, a portion of that bet is added to a shared prize pool. This causes the jackpot amount to grow with each spin. The player who hits the jackpot can then win a huge prize payout. It is important to place the max bet when playing these types of slot games because you will usually need to place the highest possible bet in order to be eligible for the largest payouts of the jackpot.